Sports » Latest News
Sports
Posted: Nov 06, 2018 7:24 AMUpdated: Nov 06, 2018 8:25 AM
OKWU Hoops Wraps Up Non-Con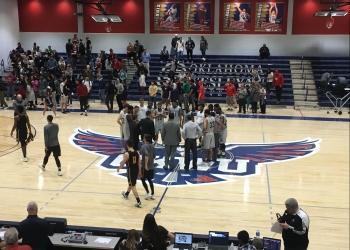 Oklahoma Wesleyan basketball earned a resounding doubleheader sweep over Kansas Christian College to finish off the non-conference season on Monday night in Overland Park, Kansas.
The Lady Eagles opened the night with a contest that was never close as they toppled the Lady Falcons, 108-36.
OKWU (4-1) connected on 11 three-pointers in the first half to blow KCC out of the water. NOC-Tonkawa transfer Hannah Nealis paced the Lady Eagles with 14 points on four three-pointers.
The men's game was more of a contest but not by much. The No. 6 Eagles earned an 89-58 win to beat the Falcons for the second time this season. The Eagle bench set the tone with 53 points combined.
Chris Murphy led the charge with 14 points and seven rebounds. Curk Harris also added 13 points, six rebounds and six assists. One of those assists came on a transition pass to Brandon Bird for an easy bucket.
The men's is still undefeated at 5-0.
Both the men and women have a long off period before the Kansas Collegiate Athletic Conference opener on Nov. 14 at McPherson.
« Back to Sports