Sports » Latest News
Sports
Posted: Sep 19, 2019 9:01 AMUpdated: Sep 19, 2019 10:04 AM
Sport Talks Del City at Coach's Show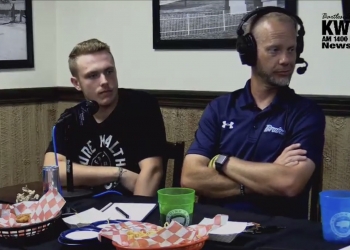 Bartlesville head football coach Jason Sport talked with KWON on Wednesday night during another edition of the Bruin Football Coach's Show from Dink's Pit BBQ.
Coach Sport previewed Bartlesville's game on Friday at Del City, and also had a recap of the Bruins loss to Collinsville a week ago.
Bartlesville committed six turnovers in the loss to the Cardinals, and could not gain much traction on offense. Sport says it is up to him to get some of those problems fixed.
BHS had four fumbles and two interceptions against Collinsville in a 20-17 loss in overtime a week ago.
Listen to the Jason Sport Show from Wednesday night.
The Bruins will try to get back on track in their final non-district game of the season at Del City. A 6:30 PM pregame with a 7:00 kick on KWON – AM 1400 and FM 93.3.
You can watch the game as well on KWONTV.com.
Don't forget that you can catch archived versions of previous games and the Jason Sport Show on the on-demand section of KWONTV.com.
« Back to Sports