Sports » Latest News
Sports
Posted: Nov 05, 2018 7:59 AMUpdated: Nov 05, 2018 8:59 AM
Sports Hall of Fame Induction a Success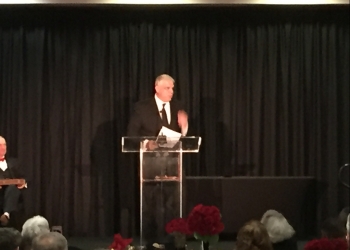 There are a few more members in the Bartlesville Sports Hall of Fame as of Saturday night, when the class of 2018 was officially enshrined.
The banquet on Saturday at the Hilton Garden Inn was the 11th annual Hall of Fame Induction Celebration, put on by the Bartlesville Sports Commission.
The inductees on Saturday included: Women's basketball player Yogi York, coach Cecil Epperly, the 1985 BHS girl's track relay team, community members Sam and Susie Barto and Mike Wise, a former Bartlesville High football player, who played at the University of Oklahoma for four seasons.
During his induction speech, Wise said being a part of the Sooner football program was an experience that changed his life forever.
Wise was a part of the 1985 Bartlesville football team, which was one of the Bruin's best. Mitch Nash, an Oklahoma State running back, was on that squad as well.
Bob Pomeroy was the host and master of ceremonies for the event.
The inductees are announced during the yearly Bartlesville Sports Commission meeting in the spring.
« Back to Sports