Sports » Latest News
Sports
Posted: Jul 11, 2019 7:13 AMUpdated: Jul 11, 2019 8:14 AM
Tucker Wins Another GAC Honor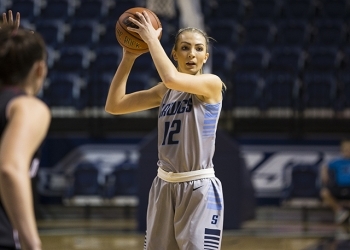 A former Bartlesville Lady Bruin great took home her final honor from the Great American Conference on Wednesday, and it was a big one.
Hailey Tucker won the GAC Female Athlete of the Year award. Tucker put a bow on a fantastic career at Southwestern Oklahoma State this past season by leading the Lady Bulldogs to their second-straight GAC regular-season title, their third GAC Championship crown at Bruin Fieldhouse, and a postseason run that went all the way to the NCAA Divsion II National Championship game.

Tucker etched her name atop the GAC record books as she became the conference's first 2,000-point scorer in addition to setting GAC career records for made field goals and made free throws.
She moved into the top five in 3-point field goals, rebounds, blocked shots and steals. She finished her career as the 18th-most prolific scorer in Division II history.
She will continue her career professionally after having signed with the Visby Ladies in Sweden.
Tucker was a 2015 graduate of BHS.
« Back to Sports