Sports » Latest News
Sports
Posted: Jun 30, 2018 5:29 AMUpdated: Jun 30, 2018 7:03 AM
Uniform Switch for Bruins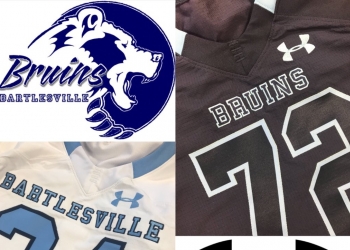 The calendar is about to turn to July, and the Bartlesville High athletic department is going to have a different look.
As KWON reported several weeks ago, the BHS athletic department will be officially outfitted by Under Armor for the next several years. Bartlesville had been under a deal with Nike that will expire on July 1. Under the new deal, BHS football and boys' basketball will switch to Under Armor jersey's starting this coming season, with other teams to follow as their jersey's wear out.
School and team apparel will now switch to Under Armor, as well. This may present fans with opportunities to both get new Under Armor gear, and stock up on older Nike gear, too.
BHS administration said to keep an eye on Bruin Spirit Outfitter - Moxie on Second Street - for deals and sales throughout the offseason as football approaches.
BHS released a preview of the team's new football uniforms on social media this week - which is the picture with this story.
« Back to Sports