Sports » Latest News
Sports
Posted: Nov 17, 2023 7:02 AMUpdated: Nov 17, 2023 8:08 AM
Bruins in 2nd Round of Playoffs on Friday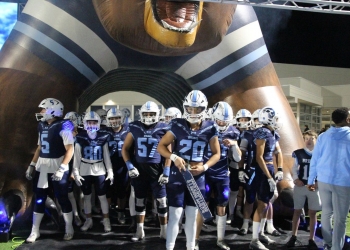 Bartlesville High will try to do something on Friday night only two other Bruin football teams have ever done – Make the state semifinals.
BHS travels to Edmond to face Deer Creek in in the 6A-II quarterfinals.
The Bruin's offense has been much-improved the last four weeks of the year. Quarterback Nate Neal is averaging nearly 215 yards a game in that span, 80-yards a game more than a year ago. This has also helped running back PJ Wallace, who ran for 180 yards in the win last week and now has 1,588 yards on the year.
Bartlesville head coach Harry Wright talks about the Bruin offense.
Bartlesville got here via a blowout 45-14 win over Putnam City North a week ago. Deer Creek earned a first-round bye last Friday after winning District II in the regular season.
The last time BHS made the state semis was in 2015 – The Bruin's No. 1 wide receiver on that club, AJ Archambo, is now Bartlesville's wide receivers coach.
Archambo says winning games like this one is one of the reasons he came back home.
Deer Creek is 8-2 overall. The Antlers have won seven straight games. This is the first meeting ever between the two schools.
A 6:30 pregame and a 7:00 kick on KWON – AM 1400, FM 93.3 and 95.1. Video coverage on KWONTV.com on Friday evening.
« Back to Sports