Sports » Latest News
Sports
Posted: Nov 16, 2023 6:31 AMUpdated: Nov 16, 2023 7:33 AM
Harry Wright Previews Deer Creek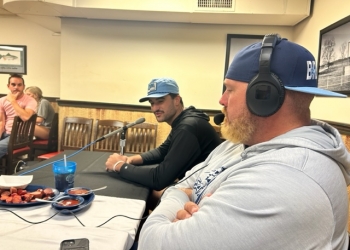 One day away from Bartlesville High playoff football, as the Bruins will make just over a two-hour trip to Edmond to face Deer Creek in the second round of the 6A-II postseason.
KWON got a chance to preview the contest on Wednesday night with head coach Harry Wright and wide receiver's coach, and former Bruin, AJ Archambo, on the Bruin Football Coaches Show from Dink's Pit BBQ.
With the win over Putnam City North last week, Bartlesville football won playoff games in back-to-back seasons for the first time since 1988. BHS did it with a thrilling win over Lawton in overtime last year, then a convincing win over PC North last week.
Wright says in the big picture, those victories continue to show his players that hard work will pay off down the line.
Deer Creek has eight returning starters on offense off a team that came within one possession of knocking off Stillwater in the 6A-II semifinals last year. The Antlers are 8-2 overall, they went 7-0 in District play.
Wright talks about a continuing strength of this Bruin team – Bartlesville's defensive line.
If you missed the coaches show, you can watch the archived version on KWONTV.com. Bartlesville at Deer Creek on Friday night at 7:00 with a 6:30 pregame on KWON and KWONTV.com.
Preview of the game with Chris Revard, Chris Batchelder and Craig Tate on this week's edition of Tailgate Talk HERE:
« Back to Sports