Sports » Latest News
Nowata Football
Posted: Aug 07, 2019 8:50 AMUpdated: Aug 08, 2019 11:49 AM
Barnes Looks to Lead Ironmen Resurgence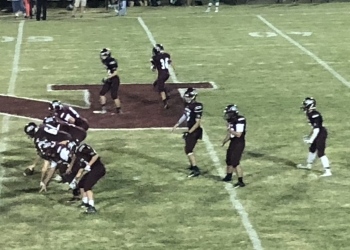 The Nowata Ironmen are poised for a bounce back season in 2019. A once great program has fallen on hard times in recent years as a revolving door of coaches, among other issues, has led to just one win in 20 games. While 2018 was a tough season it was hard to not notice the contributions of Dillon Barnes.
On any given Friday you could have seen Barnes lining up at linebacker, safety, fullback, tailback, and tight end. Barnes even started a handful of games at quarterback due to injuries. First-year head coach Chris Messner is hoping to keep him in the backfield on offense while anchoring the defense at linebacker. Messner is expecting leadership from his star senior as well.
Barnes is one of just three returning Ironmen who saw the endzone 2018, accounting for five total touchdowns. The Ironmen are counting on improved offensive line play to clear the way for Barnes and other talented backs in the running game. Messner says he wants to see competition for each starting spot in practice next week.
The Ironmen open practice on Monday. Nowata plays Oklahoma Union in its opener on August 30.
« Back to Sports