Sports » Latest News
Sports
Posted: Dec 20, 2019 9:37 PMUpdated: Dec 20, 2019 10:37 PM
Bartlesville Basketball Swept by Jenks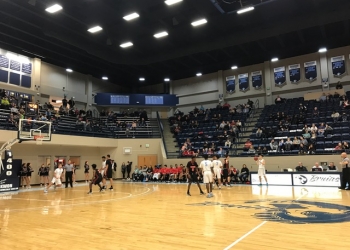 Both the Bartlesville High basketball teams entered Christmas Break on a losing note, after Jenks spoiled the Lady Bruins and Bruins home opener last night.
Jenks swept BHS, with the Lady Bruins falling 57-45 and the Bruin guys losing, 69-36.
On the girl's side, it was a close game throughout. Bartlesville got out to an early 8-0 lead and forced a Jenks timeout.
The Lady Bruins led most of the contest until Jenks went on a run in the third quarter. Jenks outscored Bartlesville 37-22 in the second half to end up with a 12-point victory. The Lady Bruins fouling with less than a minute left made the score look more lopsided.
Chloe Martin finished with 22 points and was the only Bartlesville player to tally more than six points on the evening. The BHS girls drop to 3-3.
On the guy's side Jenks dominated from the opening tip. Bartlesville trailed 20-5 at the end of the first quarter and could never scratch back into the contest. Three early fouls on Adam Nakvinda hindered the Bruin offense. Jenks started just one player shorter than 6-5, and its size caused Bartlesville issues. This nice hoop and harm from Caleb Perry provided a highlight early in the third quarter.
Bartlesville drops to 1-5 on the season with the loss. The Bruins and Lady Bruins are off until Jan. 7 with Broken Arrow visits Bruin Fieldhouse. We will have more on BHS basketball throughout the Christmas holiday.
« Back to Sports