Sports » Latest News
Sports
Posted: Jan 24, 2022 8:12 AMUpdated: Jan 24, 2022 9:13 AM
Bartlesville Wraps up Titan Classic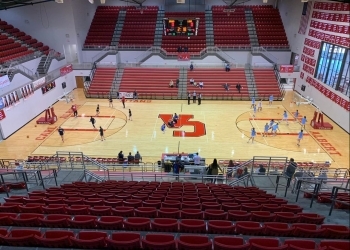 Bartlesville High boys and girls basketball will resume a regular-season schedule for the final month of the year starting on Tuesday night – as the Lady Bruins and Bruins wrapped up 10 games in 2.5 weeks with tournament play in Oklahoma City on Saturday.
The BHS girls went 1-2 in the Titan Classic, while the Bruin guys went 2-1. The Bartlesville girls won a Friday matchup with Durant, but lost to Del City on Saturday in the fifth place game. Del City topped the Lady Bruins, 42-36.
Meanwhile the Bruin guys got their second-straight come-from-behind win over Ada, 55-48 on Saturday. Just a day following a thrilling 71-70 win over McAlester.
David Castillo scored 33, two of which but the Bruins up three in the final seconds.
Castillo and Kate Gronigan on the girl's side both made the Titan Classic All Tournament Team.
BHS held Ada scoreless in the final three minutes to get the win, Bartlesville had trailed by seven in the fourth quarter prior to the run.
Both girls and guys next travel to Sapulpa on Tuesday night on KWON & KWONTV.com.
« Back to Sports