Sports » Latest News
Sports
Posted: Dec 26, 2019 7:12 AMUpdated: Dec 26, 2019 8:12 AM
Best of 2019: Nowata is Back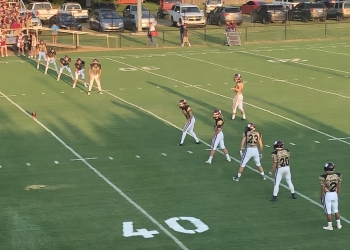 Over the next few days we will highlight some of the best stories from the calendar year across Osage, Washington and Nowata counties, as our year in review will continue until 2020.
One of the most surprising sports stories throughout 2019 was the resurgence of the Nowata Ironmen. Former Oklahoma Sooners captain Chris Messner was appointed to lead the team prior to the season. No one was for certain what was going to happen with program after winning just one game in the previous two seasons.
The Ironmen started 0-3 and all hope seemed lost. Though the tides would start to turn after a 22-12 win over Kansas in week 4. Josiah Clark scored the go-ahead touchdown late in the action.
four-game winning streak that saw the Ironmen clinch a playoff spot as fast as it possibly could. Nowata's run would come to an end in the first round of the playoffs against Beggs, but the 5-5 regular season marked tremendous progress for the once down-trodden program. Coach Messner says the turnaround started with the kids buying in.
Nowata will bring back quarterback Trenton Smith and a wealth of experienced ball carriers in 2020.
« Back to Sports