Sports » Latest News
Bartlesville Public Schools
Posted: May 11, 2018 5:05 PMUpdated: May 11, 2018 6:06 PM
BHS Competes In State Meet, Day One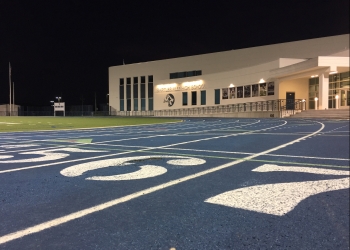 Bartlesville High track and field was back in action for state competition today at Yukon High School. The Bruins are coming off an impressive meet a regionals last week, with 16 athletes qualifying for state. That state meet is split up into 2 days, with the majority of Bruin Athletes competing on Saturday.
However, the Distance Squads showed out once again for Bartlesville, as Senior Star Riley Rigdon is your 6A State Champion in the Girls 3200 Meter Run with an impressive time of 11:30. The Oklahoma State commit would win by 5 full seconds in the warm and windy conditions after anchoring the 5th Place girls 4x800 meter relay earlier in the day. Senior Liza Williams would place 10th in that same 3200 meter race.
Other Bruins competing today include Seniors Nathan Lauritson and James Martinez who placed 5th and 6th in the 3200 Meter Run. Senior Sarah Covell would take 10th in the 300 Meter Hurdle Prelims.
We will have more on Bartlesville High Track and Field tomorrow as the 800 Meter open, 1600 Meter open, and field events start around 10 o'clock.
« Back to Sports