Sports » Latest News
Sports
Posted: Jan 18, 2020 5:25 AMUpdated: Jan 18, 2020 8:14 AM
BHS Splits Throwback vs. Owasso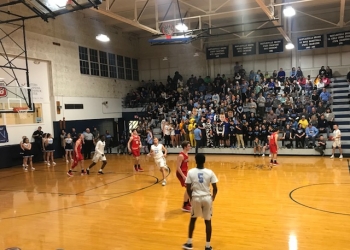 The Bartlesville High basketball teams split a double-header in Throwback night last night at the old Phillips Fieldhouse. The Lady Bruins won a wild one, while the Bartlesville guys let one get away toward the end.
On the girls side, BHS rallied back from 10 points down to win 38-37. It was a Kate Gronigan runner with two seconds remaining that gave Bartlesville the win.
The Lady Bruins gave up an and-one opportunity with 11 left that gave Owasso the lead, 37-36. On the ensuing possession, BHS had some trouble getting the ball into an offensive set, but eventually got a look for Gronigan that won the game.
Gronigan led Bartlesville with 12 points. BHS missed a pair of free-throws that could have put the game on ice prior to the Owasso three-point play that gave the Lady Rams the lead.
Bartlesville also got a huge floater from Mary Cone, off a steal from her sister Elise, in the final seconds that helped put BHS back on top.
The Lady Bruins were without Chloe Martin once again, who was still injured from last week.
You can watch a video of the Lady Bruin game winner on KWONTV.com. The replay of the games are free to view. The game winner comes around the 2:01:50 mark of the video, which contains both the girls and boys games.
Lady Bruin vs. Owasso Box Score
---
On the guy's side, Bartlesville battled, but could not get enough points to knock off the Rams. Owasso gave the Bruin guys their sixth straight loss, 53-35.
The game was not always so lopsided, BHS trailed by seven at halftime and got within six multiple times in the third quarter before Owasso pulled away in the fourth.
Bruin boys vs. Owasso Box Score
Both BHS teams are off until Tuesday when they have another double-header at Sand Springs.
« Back to Sports