Sports » Latest News
News
Posted: Jul 10, 2020 7:06 AMUpdated: Jul 10, 2020 8:06 AM
BHS Sports Practices Begin Wednesday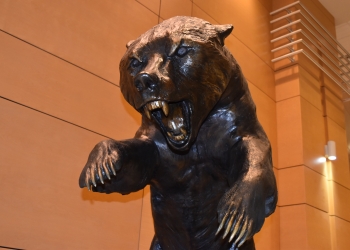 We are four days away from high school sports officially starting in Oklahoma, and Bartlesville High is preparing for its fall sports practices beginning on Wednesday.
In the Sooner state, volleyball, softball and cross country practices can officially begin on July 15.
The Oklahoma Secondary Schools Activities Association is moving forward with fall sports.
Since spring sports were canceled back in April, the organization has left most decisions to their individual school districts, so they don't handcuff any district's ability to have competitions and practices if they want.
Bartlesville High Athletic and Activities Director Thad Dilbeck says that Bruin and Lady Bruin athletes will begin practicing next week in preparation for a fall season, but it might not look exactly the same as usual.
BPS moved to phase two of its facility reopening plan earlier this month, which allowed for some more sport-specific activities. Bartlesville High has already had tryouts for a handful of sports as well.
Dilbeck said that both players and coaches were ready to get back in action. Attendance for offseason programs across all sports have been tremendous, and Dilbeck says that goes back to relationships between players and coaches.
You can listen to the entire interview with Dilbeck on the start of fall sports HERE.
« Back to Sports