Sports » Latest News
Sports
Posted: Feb 12, 2020 7:48 AMUpdated: Feb 12, 2020 8:48 AM
BHS Swept at Jenks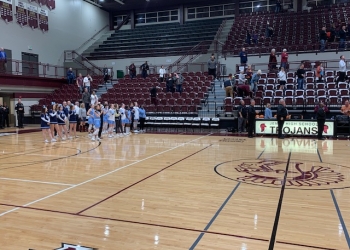 Both the Bartlesville basketball teams lost at Jenks on Tuesday night after putting up good efforts.
Both teams will have some positives to pull from the games, but still ride losing streaks with three games left on the regular season schedule. BHS fell in a close one on the girl's side, while the Bruin guys had Jenks pull away.
The Lady Bruins lost 78-67. BHS battled back from down 11 points at halftime – and down 16 points midway through the second quarter.
Bartlesville scratched into the game on the back of Chloe Martin and Lydia Knollmeyer. Both had season highs, as Martin scored 21 points in the second half en route to 27 for the game. Knollmeyer had 15. This bucket from Martin gave Bartlesville its only lead of the contest.
Jenks deserves credit for keeping BHS at arm's length, the Lady Trojans made 11 three-pointers on the night. The Lady Bruins (6-13) have dropped six straight. Their 67 points scored was the highest output of the season.
On the guy's side, a promising start fell in the second half. Jenks topped BHS 53-25.
Bartlesville (1-18) was within a possession or two for the first half of the game, and trailed by only eight at halftime. Jenks went on a big run to put the game out of reach down the stretch. The Bruins have dropped 15 in a row.
Both teams will be at Broken Arrow on Friday
« Back to Sports