Sports » Latest News
Sports
Posted: Mar 12, 2019 7:20 AMUpdated: Mar 12, 2019 9:19 AM
Bill Doenges Could Get Turf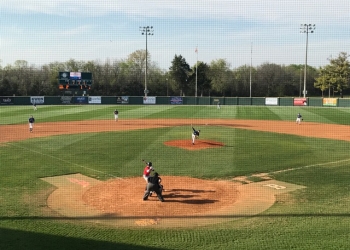 Bill Doenges Memorial Stadium could be a getting an upgrade with Bartlesville Public School's next bond issue.
Nothing with the bond issue has been finalized, but one of the possible parts of the package could be turf for the more than 100-year-old stadium in downtown Bartlesville.
Bill Doenges is one of the last all-grass facilities in the district – with Broken Arrow, Owasso, Stillwater, Bixby and others all already having some form of turf for their baseball complexes.
Turf would allow a quicker turn around between games in tournaments. It would mean less prep work getting ready for games and would save money on irrigation and other field needs. Turf could ultimately mean for events for Doenges, as well.
The field is already well-worked with games and practices between Bartlesville, Oklahoma Wesleyan, the Doenges Ford Indians and others. Bartlesville High Athletic Director Spence Rigdon talks turf at Doenges.
As we have reported on the news side, the 2019 bond issue will likely come to a vote in August, with the items in the bond being finalized at the May School Board meeting.
Turf for the Bartlesville softball complex, a practice facility or upgrades to the Custer Stadium press box have been other ideas involved with athletics that could make the bond.
« Back to Sports