Sports » Latest News
sports
Posted: Jan 20, 2022 10:08 PMUpdated: Jan 21, 2022 12:02 PM
Both BHS Hoops Teams Lose in OKC Day 1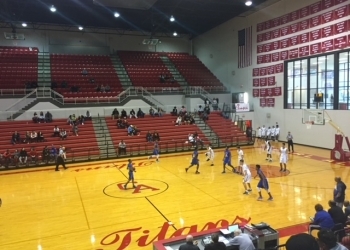 Both the Bartlesville High basketball teams fell in their opening-round games at Carl Albert High School in the Titan Classic on Thursday.
The Lady Bruins lost to Westmoore, 61-49. Meanwhile Destiny Christian topped the Bruin guys, 61-54.
On the girl's side, BHS had an early eight-point lead dwindle to two at halftime. The Lady Bruins scored only 16-points in the second half, after getting 33 in the first.
On the guy's side, the Bruins had a cold shooting night end their three-game winning streak. Bartlesville went back and forth with an athletic Destiny Christian club before falling behind 13 in the fourth quarter. Bartlesville would battle back within five.
This three from Jordan Carter gave the Bruins life late.
However Bartlesville would come up empty on two possessions down five and six points in the final minutes and Destiny Christian held on.
The BHS girls will now face Durant at 10:00 AM on Friday. A game we will air on Sports Talk 1500 AM – 99.1 FM – KPGM and KWONTV.com.
The Bruin guys will face McAlester at 2:30 PM on KWONTV.com only due to conflicts with the Caney Valley Tournament.
McAlester lost to Carl Albert, 74-56 on Thursday.
Durant fell to Carl Albert 54-44 on Thursday.
« Back to Sports