Sports » Latest News
OKWU Soccer
Posted: Apr 06, 2021 3:22 PMUpdated: Apr 06, 2021 4:24 PM
Both OKWU Soccer Teams Ready for Postseason Runs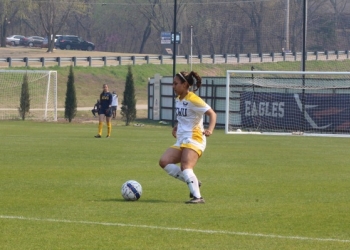 It's an exciting time for Oklahoma Wesleyan soccer. The coronavirus pandemic forced the rescheduling of the NAIA Soccer Championships to the spring instead of the usual spot in the fall. Both OKWU clubs are in the thick of postseason competition currently.
The Lady Eagles defeated Tabor 5-0 in the first of round of the Kansas Collegiate Athletic Conference tournament on Saturday. The women's squad is ranked No. 13 in the NAIA and should be a lock for a bid in the national tournament. OKWU plays Southwestern in the KCAC semis in Wichita on Wednesday at 7 p.m.
The men's team is a 14-2-1 heading into the KCAC tournament. OKWU square off with No. 8 seed Bethel in a home game on Friday evening. The Eagles are 2-2-1 in their last five matches after winning 12 straight contests in the first portion of the season. OKWU defeat Bethel 6-0 in a meeting back in September.
WOMEN'S KCAC TOURNAMENT BRACKET
(PHOTO COURTESY: OKWU Athletics)
« Back to Sports