Sports » Latest News
Sports
Posted: May 04, 2022 7:31 AMUpdated: May 04, 2022 8:31 AM
Brown - BHS Girls Golf - 6A State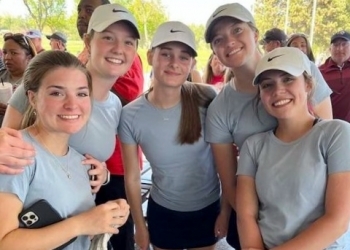 Bartlesville High girl's golf is in Oklahoma City for 6A State.
The 36-hole event kicks off on Wednesday morning.
BHS will have a chance to get its senior leader Lisa Brown onto the podium tomorrow. Brown finished second at Regionals and head coach Carl Holmes says she will have a chance to win the whole thing.
Putting appears to be the key to Brown's success this weekend. Holmes says her ball striking has become elite over the past few months, but how she putts may make the difference over the next two days.
All the Lady Bruins will tee off at 9:32 from tee No. 1 at Lincoln Park West in Oklahoma City.
« Back to Sports