Sports » Latest News
Sports
Posted: May 05, 2022 9:13 AMUpdated: May 05, 2022 10:13 AM
Bruin Baseball Time Changes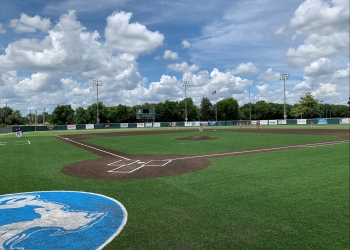 Bartlesville High baseball still slated to play a couple games on Thursday in the 6A Regionals - but there has been a time change.
BHS will head to Bixby to face Broken Arrow in the first contest now at 4:00 PM. The Regional is double-elimination, meaning Bartlesville will turn around and play a winner's or loser's bracket game later in the day depending on the result vs. the Tigers.
Bartlesville has been stellar offensively for most of the season. BHS is averaging nearly 7.5 runs per game and is hitting .340 as a team. A lot of that in April has been from junior Nik Johnson. Johnson has been an outrageous .462 with two doubles and two home runs.
Head coach Cody Price says Johnson has been great in every facet.
As for Regionals, it has been a long time coming. BHS went 24-12 in 36 regular season games. Bartlesville's baseball guys have been working in some capacity since the early parts of the school year.
Price says the last preparations are done and the guys are ready to play.
The Bruins are now scheduled to face Broken Arrow at 4:00 PM - a game we will carry on Sports Talk 1500 AM - 99.1 FM - KPGM.
Should BHS win its next game will be at 6:30 PM in the winner's bracket.
Should the Bruins lose against BA, their loser's bracket game would now be at 9:00 PM.
« Back to Sports