Sports » Latest News
Sports
Posted: Nov 06, 2018 7:21 AMUpdated: Nov 06, 2018 8:21 AM
Bruin Basketball Heating Up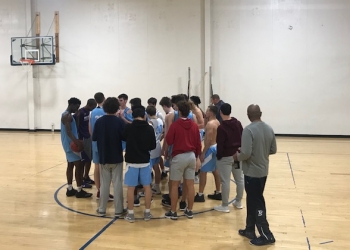 The gridiron is slowing down, and the basketball court is heating up, as hoops season is nearly here.
At Bartlesville High, the Bruins saw two of their starters back at practice on Monday now that football is over.
Varsity staples Shane Simpson, Tom Beard and Jaylin Oliver returned to the hardcourt after they have been out for the Bruin football squad since August.
This will be a little bit of a new experience for Simpson and Oliver - both had played football in the past, but did not play for BHS last season, so they are making the November transition from football to basketball for the first time in a while. Bartlesville head boys basketball coach Clent Stewart talks about their return to the hardcourt.
The Bruins will likely have three starters returning from a 9-17 team a year ago. Both Oliver and Simpson were starters last season – leading scorer Tayo Dina will be the other returning man.
Bartlesville is scheduled to open up the season at Jenks on Friday, Nov. 30.
We will have more on Bruin basketball, and Lady Bruin basketball, as the preseason continues.
« Back to Sports