Sports » Latest News
Sports
Posted: Feb 22, 2021 7:21 AMUpdated: Feb 22, 2021 8:22 AM
Bruin Basketball Wraps Up Regular Season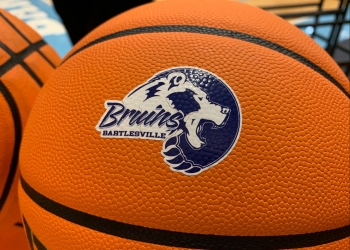 Bartlesville High will have its regular season finale on Monday night, as Muskogee visits Bruin Field House for a tune up.
Both BHS teams will begin the 6A Regionals this weekend, so the games against Muskogee gives the clubs a chance to shake off the rust. This contest was originally scheduled for this past Friday.
The Lady Bruins have not played a game since Feb. 2, a home loss to Owasso. A combination of winter weather and COVID-19 issues threw kinks into the schedule.
The Bruin guys have not played since Feb. 6. Bartlesville guy's head coach Clent Stewart says he wants his guys to focus on doing the things they can control.
Both BHS teams lost at Muskogee on Jan. 15. We will have both those Bartlesville games for you on Monday evening - girls at 6:30, guys at 8:00 - on KWON – AM 1400 and FM 93.3 and you can watch the contests as well on KWONTV.com.
« Back to Sports