Sports » Latest News
Sports
Posted: Sep 18, 2019 7:12 AMUpdated: Sep 18, 2019 8:12 AM
Bruin Football Coaches Show - Del City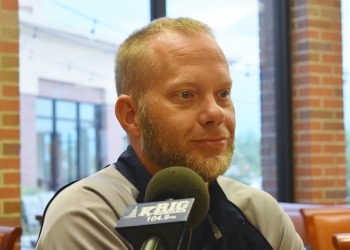 You can catch up with all the latest Bartlesville High football news on Wednesday evening during the third edition of the Bruin Football Coach's Show.
Head coach Jason Sport will preview Bartlesville's upcoming game at Del City on Friday and also recap the Bruins contest from this past weekend against Collinsville.
The show will air from 6:00-7:00 PM on KWON – AM 1400 and FM 93.3 from Dink's Pitt BBQ off Frank Phillips. You can listen in on the radio or watch the show live on KWONTV.com.
Friday's game will be a big opportunity for BHS, as Del City is a consensus top-7 team in Class 6A-II. The Eagles are coming off a loss against 5A powerhouse Carl Albert last week.
BHS - Del City will kick at 7:00 on Friday evening, with the play-by-play on KWON and available to watch on KWONTV.com.
« Back to Sports