Sports » Latest News
Sports
Posted: Jun 08, 2018 7:51 AMUpdated: Jun 08, 2018 8:51 AM
Bruin Football Now in Summer Mode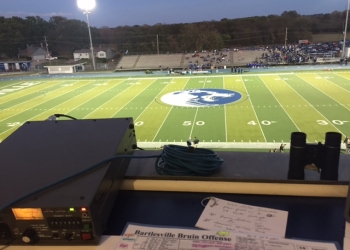 The spring era of BHS football is over, so the offseason grind of the summer is here.
First-year Bartlesville head coach Lee Blankenship got his first three weeks of observing and studying his team during spring ball. Off all the positions, Blankenship was most pleased with the running backs. BHS has returners and fresh faces making an impact.
Now that spring has wrapped up, all eyes look to the summer for the Bruins. BHS will continue with conditioning and lifting during Bruin Pride. There will be 7-on-7 competitions in Sand Springs starting next week. And there will be a camp this summer. Blankenship says the summer is about fixing little problems.
The Bruins first 7-on-7 matchup will be on Tuesday, and that will continue throughout the summer.
Much more on the Bartlesville football offseason in the coming weeks, as football season is only about two months away in Oklahoma.
« Back to Sports