Sports » Latest News
Sports
Posted: Apr 07, 2021 7:14 AMUpdated: Apr 07, 2021 8:17 AM
Bruin Golf - John - Get High Marks on Tues.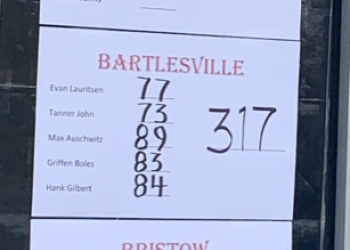 Bartlesville boys golf had a nice outing on Tuesday afternoon in a tournament hosted by Bishop Kelley at La Fortune in Tulsa.
BHS shot a 317 as a team, with Evan Lauritsen shooting a 77 and Tanner John notching a team-best 73.
The 73 from John put him in the top-10 individually for the event.
John is just a sophomore playing his first year of varsity golf. He and Lauritsen are the only guys who have real experience playing competitive golf on this year's squad.
Head coach Jeff Rude says John should have good things on the horizon.
All five of the Bruins shot under 90 on Tuesday. With Griffen Boles shooting 83. Hank Gilbert shot an 84 and Max Auschwitz tallied an 89.
« Back to Sports