Sports » Latest News
Sports
Posted: Jan 20, 2022 7:56 AMUpdated: Jan 20, 2022 8:57 AM
Bruin Hoops Head to OKC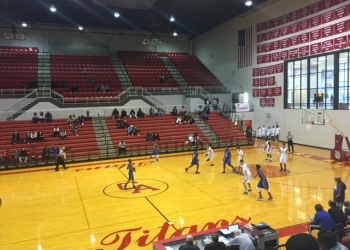 Bartlesville High basketball back in action again on Thursday, as both the BHS girls and guys make long road trips to the Oklahoma City metro to play in the Carl Albert Titan Classic this weekend.
They will play three games over three days.
This is the end of the busiest portion of Bartlesville's schedule. Both the BHS girls and guys will have played 10 games over the past 18 days when the tournament wraps up on Saturday.
For the Bruin guys, the emergence of Kent Girard has been key the last two weeks. Girard set career highs with 18 points at Owasso and 22 points vs. Bixby in two recent close Bruin wins.
The WACHA transfer is in his first year of 6A basketball. He says the work he put in this offseason is starting pay off.
The BHS girls will have a winnable game against Westmoore in the first round at 4:00 PM.
Meanwhile the Bruin guys will face Destiny Christian, a non-OSSAA team with a 14-2 record at 8:30.
Girls will air on Sports Talk 99.1 FM – KPGM with a 3:30 pregame.
Guys on KWON – AM 1400, FM 93.3 and 95.1 with a 8:00 pregame.
Both will also be on KWONTV.com.
« Back to Sports