Sports » Latest News
Sports
Posted: Sep 19, 2022 10:29 AMUpdated: Sep 19, 2022 11:29 AM
Bruin Offense Surges vs Collinsville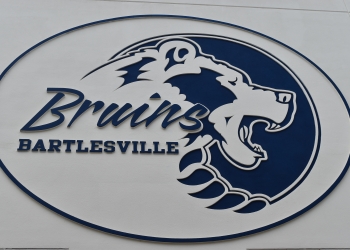 In Bartlesville, the Bruins lost their home opener to Collinsville, 35-25. Another gritty performance full of positives for BHS, who despite losing two straight, feels like it has some momentum heading into another tough game with Booker T. Washington this Friday.
The Bruins gained 366 yards in the loss against the Cardinals. If it were not for big plays, the defense also held up quite well against a Collinsville team averaging 52 points-per-game entering the contest.
Here was Bartlesville head coach Harry Wright's thoughts after the game.
We will have coverage all week long as the Bruins get set for the Booker T. Hornets on Friday night from Custer Stadium.
This is the second of three straight home games in September and early Oct. for BHS.
« Back to Sports