Sports » Latest News
Sports
Posted: Apr 06, 2021 7:14 AMUpdated: Apr 06, 2021 8:14 AM
Bruins Drop Game 1 vs. Memorial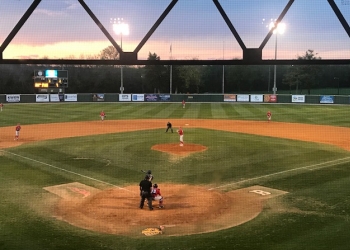 Bartlesville High baseball dropped game one of its two-game district set with Edmond Memorial on Monday night.
Memorial topped BHS 13-3 to hand Bartlesville its second straight loss.
The score looks worse than it was. The Bruins were down three at 4-1 before the Bulldogs scored nine unanswered in the last two innings to pull away.
Seven crossed the plate in the top of the seventh for Memorial, which stays unbeaten at 9-0 in District play.
The Bulldogs swung the bat well, tallying 18-hits in the game. BHS committed just one error.
Despite the loss, senior Jakob Hall had a good day at the plate. Hall was 4-4 with a double and all three RBIs. This shot to deep left field in the bottom of the seventh scored two.
Hall will get a chance to pitch against Memorial on Tuesday evening in game two of the series in Edmond.
The senior and Oral Roberts signee has been nothing but tremendous on the mound this year. In 31 innings Hall has given up 11 hits, three walks and 51 strikeouts. He enters tonight's game with a .226 ERA.
A 5:00 first pitch from Edmond. Bartlesville is 5-4 in District play and 13-6, overall.
No radio coverage on Tuesday for the Bruins. Next broadcast will be on April 13 vs. PC West.
« Back to Sports