Sports » Latest News
Sports
Posted: Sep 12, 2020 7:08 AMUpdated: Sep 12, 2020 8:08 AM
Bruins Fall at Sapulpa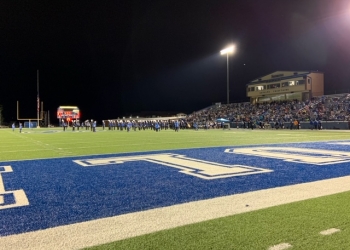 Bartlesville High football dropped to 1-1, as Sapulpa beat the Bruins 48-21 in a non-district contest.
The Chieftains would go on two separate runs of three straight touchdowns, one to begin the game, and another in the 3rd quarter, which would put the game out of reach.
Chieftain tailback Te'Zohn Taft again was tremendous, scoring three touchdowns with 201 yards on the ground. Bartlesville committed five turnovers, with two interceptions and three turnover on downs, which led to the game turning a bit lopsided.
Bartlesville did have some bright spots. BHS ran up and down the field to begin the contest. The first drive of the game out inside the five, which then ended in a blocked field goal.
The three Bruin scores came on the ground from Colton Sutton, Paxton Bradford and Caden Davis, who got his first score of the year.
Bartlesville ran the ball effectively, racking up 245 yards on the ground on 37 carries, good for 6.6 yards a clip.
Bartlesville will have another tough 5A club this coming Friday, as it travels to Collinsville.
« Back to Sports