Sports » Latest News
Bruins
Posted: Sep 07, 2019 6:00 AMUpdated: Sep 07, 2019 7:00 AM
Bruins Fall Despite Strong Second Half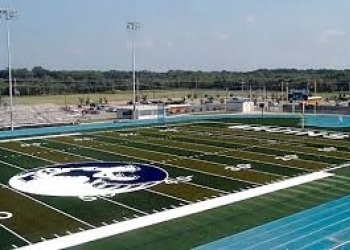 Bartlesville did not get off to an ideal start on Friday night after spotting Claremore 26 points in the first half of the season opener. A late comeback effort fell short as BHS fell 40-28.Out of the gate in the second half it was Caden Davis and the Bruin defense who finally got the scoring going.
Caleb Perry would find the endzone later in the quarter to pull the Bruins within two scores. Bartlesville would pull within five points after a sequence of two touchdowns in three plays with an oside kick recovery sandwiched in the middle. Quarterback Ben Winters connected with KWON intern Shane Simpson on another touchdown strike.
The Zebras would ice the game late with a touchdown putting things out of reach. Despite outscoring Claremore 28-14 in the second half the Bruins fall short. BHS loses its first game under Jason Sport to fall to 0-1. The Bruins take on Collinsville next week.
« Back to Sports