Sports » Latest News
Sports
Posted: May 06, 2022 7:34 AMUpdated: May 06, 2022 8:34 AM
Bruins Go 1-1 at Bixby Regional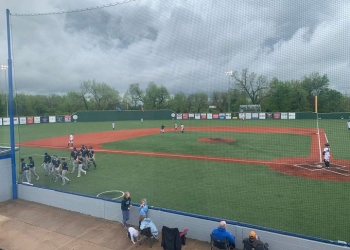 Bartlesville High baseball went 1-1 during the Bruins first day of the 6A Regionals on Thursday, and now BHS will have to win three straight in-order to get to the State Tournament.
Bartlesville blew out Broken Arrow 9-1 in the first contest, but then fell to Bixby 12-0 in six innings in the nightcap.
The first game was fun from the start. Bartlesville scored five runs in the first inning. BHS got four base hits and two walks to jump ahead early.
Brenden Asher had the big base hit in the first with two outs to help himself out.
Asher again was brilliant on the mound, seven innings of five-hit ball. He gave up a solo home run with two outs in the seventh as his only run surrendered in the outing.
Eric Olenberger added on later in the ballgame - Hitting his first home run of the season.
The nightcap again saw Bartlesville run into Bixby's No. 1 starter. Cooper Moore, a future Kansas Jayhawk, allowed only one Bruin base hit over six innings of work.
Bradee Rigdon battled on the mound and kept Bartlesville in it until the later innings. A Spartan grand slam in the top of the sixth would effectively end it.
BHS will now face Broken Arrow at 4:00 PM in the first game of the day on Friday, should the Bruins survive that one, they'd play in the first of two possible Regional title games at 6:30 PM against Bixby.
The 4:00 game will air on Sports Talk 1500 AM – 99.1 FM – KPGM.
« Back to Sports