Sports » Latest News
Sports
Posted: Jan 25, 2022 11:51 AMUpdated: Jan 25, 2022 12:52 PM
Bruins Head to Sapulpa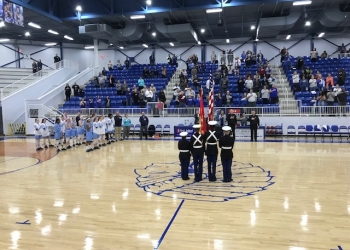 Bartlesville High boys and girls basketball are both back into action on the road on Tuesday night at Sapulpa, as BHS gets back into Tuesday and Friday play for the next few weeks.
The Bruin guys are ranked as the No. 7 team on the East side of 6A in the latest OSSAA Rankings update, which came out on Monday afternoon.
The top-four teams from each side of the state host a regional, so BHS would need to jump three spots in order to get a home playoff game. There are four more dates for Bartlesville hoops before records lock for regional seeding.
BHS had been shooting the ball well until this past weekend at the Carl Albert Tournament. Bartlesville was able to gut out two wins despite shooting 16-percent from three-point range, and 30.5-percent from the field in total in the three games.
Head coach Clent Stewart says defense and rebounding will be important over the next few weeks, too.
Bruin guys are 9-5, while the Lady Bruins are 4-11. Sapulpa is the No. 1 ranked team in the state on the girl's side, the Chieftain guys are 4-10.
Both games will air Tuesday evening on KWON – AM 1400, FM 93.3 and 95.1. You can also watch on KWONTV.com.
« Back to Sports