Sports » Latest News
Sports
Posted: Sep 09, 2019 7:05 AMUpdated: Sep 09, 2019 8:59 AM
Bruins Look to Collinsville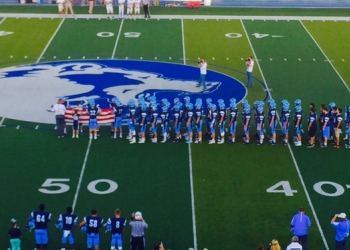 Bartlesville High will work to rebound after an 0-1 start to 2019.
The Bruins valiant comeback effort came up just a bit short at home against Claremore this past Friday, as the Zebras escaped Custer Stadium with a 40-28 victory.
Bartlesville trailed 26-0 at halftime and all looked lost. However, the Bruins bounced back, scoring 28 of the next 35 points in the game, and drawing within 33-28 and having the football with four minutes left to play. After the game, Bruin head coach Jason Sport talked about the effort.
Bartlesville will have its second straight home game to begin the season as Collinsville visits town on Friday night.
Full Archived Broadcast vs. Claremore
Another 7:00 PM kick on KWON - AM 1400 and FM 93.3, also available on KWONTV.com.
The Cardinals are also 0-1 after a loss to Oologah last week, 13-12.
« Back to Sports