Sports » Latest News
Sports
Posted: Sep 17, 2022 6:13 AMUpdated: Sep 17, 2022 7:35 AM
Bruins Lose Home Opener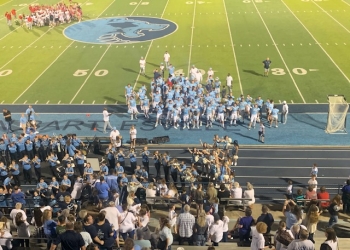 Bartlesville High lost a back-and-forth contest at home against the defending 5A state champions on Friday night, in a good effort for the young club.
Collinsville had just enough big plays to overtake BHS 35-25 in front of a great home-opening crowd at Custer Stadium.
The Bruins got within seven, four and three points at different times in the final three quarters, but every time BHS drew within a score, Collinsville would have an answer. Up by three, a Cardinal 67-yard score on a third and 12 play with 5:47 left would put the game away.
Late in the first half after seemingly being dead in the water, with third down and forever, facing a 14-0 deficit and a likely punt, the Bartlesville offense came alive with the biggest play of the season thus far. An 83-yard strike from Nate Neal to Kaden Brown, and the game was on.
Bartlesville's defense would hold on a fourth and short inside the BHS 10 right before halftime, and the Bruins would head into the break down only 14-7.
A short Amanuel Gordon field goal drew Bartlesville within four points, when Collinsville would get its first big play. A 91-yard pass from Kaden Rush to Hudson Hensley put the Cardinals back on top.
Late in the third, PJ Wallace would find the end zone out of a Wildcat formation.
And again Bartlesville was within four. However, Collinsville would have an answer, this time a 64-yard touchdown put the Bruins down 11 again. But – Bartlesville still wasn't finished.
A 17-yard pass from Neal to Damien Niko, and Bartlesville would get a two-point conversion to get within three points at 28-25 Cardinals. However that's as close as it would get. Collinsville scored from 67-yards out from Rush to Sach Stein made it 35-25, and that was it.
Nate Neal unofficially went 14-24 for 252 yards with two touchdowns and two interceptions. Wallace again went over 100 yards, with 27 carries for 108. Austin Zink had a good night, as well, carrying the ball for 33 yards.
BHS is 1-2 and next hosts Booker T. on Friday.
« Back to Sports