Sports » Latest News
Sports
Posted: Oct 07, 2019 7:19 AMUpdated: Oct 07, 2019 8:19 AM
Bruins Set for Homecoming vs. Sandites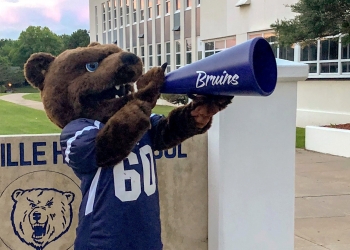 Bartlesville High football is still looking for its first win, as the Bruins will host Sand Springs for homecoming this Friday night.
BHS came as close as it has all season to a win this past Friday in a loss at Sapulpa. The Chieftains outlasted Bartlesville 55-40 in a shootout.
Bartlesville led by as many as 13 in the first half, and led by six at halftime. Sapulpa outscored Bartlesville 34-6 over the final 2.5 quarters to get the win. Head coach Jason Sport talked about the contest after the final buzzer on Friday night.
Sand Springs coming to town will likely give Bartlesville another good chance to pick up a victory.
The Sandites are 2-3, with a narrow win over Shawnee two weeks and a 54-6 loss to Mukogee this past Friday.
Kick set for 7:00 PM this Friday at Custer Stadium for homecoming. More on that game throughout the week.
« Back to Sports