Sports » Latest News
Sports
Posted: Jan 26, 2022 8:38 AMUpdated: Jan 26, 2022 9:38 AM
Bruins Split at Sapulpa - BTW on Friday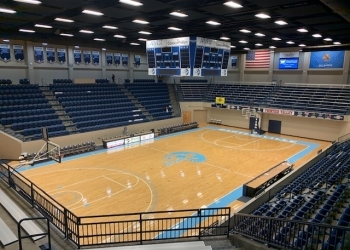 Bartlesville high boy's and girl's hoops split their double-header on the road at Sapulpa on Tuesday night, the Bruin girls falling, but the BHS boys winning again.
Lady Bruins lost 61-42, the Bruin guys won 80-62.
On the girl's side, Bartlesville (4-12) battled the No. 1 team in 5A, trailing by a single possession for most of the first quarter. Bartlesville would trim a 19-point deficit down to 10 early in the third quarter, but could never get any closer.
TK Valentine led BHS in scoring with 13. Mikka Chambers added in 10. Lady Bruins are 4-12.
For the guy's a close first half turned into a laugher in the second. Bartlesville (10-5) would score 18 points in the first 5.5 minutes of the third quarter en-route to a 22-point lead.
This three-pointer from David Castillo got the Bruins rolling.
Senior center Nick Smith was tremendous in an expanded role. Smith was back in the starting lineup with Kent Girard out with a broken nose, and he took advantage. Smith had a career-high three three-pointers and 15-points.
This final three capped a night to remember.
Castillo would finish with 27. Jordan Carter added 14. Up next- a big Friday night showdown with Booker T. Washington looming at Bruin Field House
« Back to Sports