Sports » Latest News
Dewey Football
Posted: Sep 11, 2020 10:26 PMUpdated: Sep 11, 2020 11:26 PM
Bulldoggers Move to 2-0 With Thrilling Win Over Riverton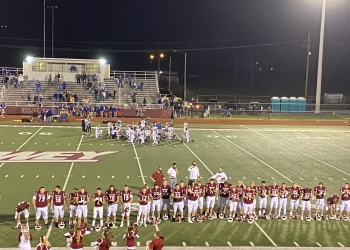 The Dewey Bulldoggers outlasted Riverton, Kansas 36-34 in a Friday night contest. The Doggers made a few big offensive plays and a couple of key defensive stops to get the win and move 2-0 on the season. The Bulldoggers are 2-0 for the first time since 2012.
Tate Lewis would connect with Dallas Mullikin for an early touchdown to put Dewey up 8-0. Riverton would respond to knot the score up. However, Mullikin would take the ensuing kickoff 77 yards to the house to give the Doggers the lead once again.
Down 20-16 the Doggers orchestrated a nice drive to put a score on the board in the final minutes of the first half. Sophomore Trenton Muninger would throw a touchdown to Jacob Mouser from close range.
Up 22-20 at the break, Dewey would score again early in the third quarter. This time Muninger would run it in for his fifth total touchdown on the season in just his second varsity game.
Early in the fourth quarter up 30-28, Dewey would lose the ball on a questionable backward pass ruling on a screen play. Brayden Adock would register a third-and-goal sack and the Doggers defense held on fourth down. Two plays later Lewis connected with Davis on a 94-yard pass and catch.
The Rams would march down and score quickly to make it 36-34. Dewey would kill some clock but gave Riverton a chance with under a minute to go. Davis would seal the win with a big interception on the final drive.
Davis would finish with four receptions for 144 yards and a touchdown, one fumble recovery and an interception. Davis talks about his big touchdown reception.
The Doggers will look to finish a perfect non-district season with a home game against Vinita next week.
« Back to Sports