Sports » Latest News
Dewey Football, Pawhuska Football
Posted: Oct 07, 2019 1:55 PMUpdated: Oct 07, 2019 2:55 PM
Carner, Drummond Nominated for State Player of the Week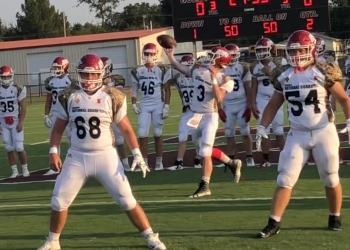 Senior quarterback Kale Carner was been a major part of the Dewey Bulldoggers offensive resurgence in 2019. Carner had quite a day last Friday. During the pregame ceremony he was awarded the title of homecoming king. During the game, a 62-45 win over Haskell, Carner tallied 8 total touchdowns and 480 total yards. He also snagged a defensive interception. Carner has now compiled over 1,500 yards and 21 touchdowns in his senior season.
Carner has been nominated as one of the candidate for the Tulsa World's Player of the Week. Pawhuska's Bryce Drummond also received accolades for his six TD performance against Tonkawa.
Polls close at 3 pm. Tuesday.
« Back to Sports