Sports » Latest News
Area Basketball
Posted: Jan 20, 2022 3:01 PMUpdated: Jan 21, 2022 10:06 AM
CVT Day 1 Recap: Bullpups Knock Out Trojans in Overtime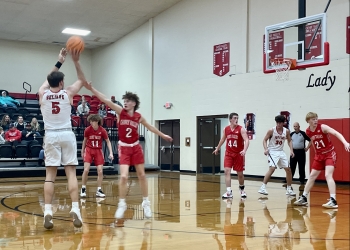 The first day of the 28th annual Caney Valley tournament saw some lopsided first round scores. The Dewey girl's opened the day with a 42-27 win over Copan. The Lady Doggers advance to semifinals in their second tournament of the year.
Our first radio game of the day saw Dewey blitz past the Copan boy's 73-30. The Doggers hit 11 three-pointers as a team in the contest—eight of which came in the third quarter. Dewey outscored the Hornets 30-10 in the third period to build on a 17-point halftime.
Bryson Hudson dropped a season-high 17 points in the win. He led the Doggers attack from beyond the arc.
Copan put up a good fight against a much bigger school. The Hornets were led by Correll Record with 13 points and Chandler Bauman with 11 points. The Hornets top duo linked up on this second quarter bucket.
Dewey moves to the semifinals against the winner of tonight's 8:30 p.m. bout between Caney Valley (OK) and Caney Valley (KS), on KRIG 104.9 FM. The loser will take on Copan at 2:30 p.m. on Friday.
Our second radio game was rather one-sided as top-seeded Riverfield cruised past Barnsdall 94-33. James Johnson led the Panthers with ten points. Barnsdall drops to 0-12 on the season.
Our final radio feature saw Caney, Kansas down the Caney Valley (OK) boys' team, 66-58 in overtime. The Trojans led 20-10 after one period but the Bullpups fought back. Daniel Barham led the Trojans with 22 points, he hit this three-pointer with five seconds left to force the overtime.
The Bullpups hit big shots all night long. Gage Grant led the team with 21 points. Most of Caney's work in the extra period was done from the free throw line. Jack Billingsley hit this big jumper early in the period.
The Caney Valley girls' team is looking to make another title run in its own tournament. The Lady Trojans topped Riverfield 62-12. Caney Valley will now play Dewey on Friday at 7 p.m. with a championship game spot on the line.
Radio schedule
Friday
Barnsdall v. Liberty – 1500 AM, 99.1 FM KPGM – 11:30 a.m.
Copan v. CVOK- 1500 AM, 99.1 FM KPGM – 2:30 p.m.
Dewey v. CVKS —KRIG 104.9 FM – 8:30 p.m.
« Back to Sports