Sports » Latest News
Area Basketball
Posted: Jan 22, 2022 5:41 AMUpdated: Jan 22, 2022 6:41 AM
Dewey Boy's, Lady Trojans to Play for Championships in Caney Valley Tournament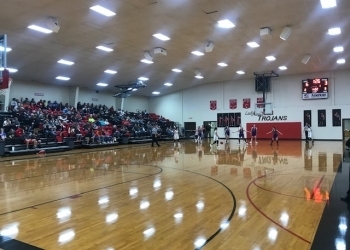 It was quite the day of basketball in Ramona on Friday as the final games are now set with two rounds in the books in the Caney Valley Tournament. The Caney Valley Girls' team will play Oklahoma Bible for the title on the ladies side, while Dewey will take on Riverfield for the guy's title.
The Lady Trojans took down Dewey 51-39 in the semifinals. CV is the title game of its own tournament for the fifth straight year.
The Dewey boys' won 41-31 over Caney, Kansas in the final game of the night. It was a defensive battle that didn't see either team score for the first four minutes. Dewey has become increasingly comfortable in this style of game as it held its 12th opponent under 45 points this season.
Dewey led 26-23 after three back-and-forth quarters. Late in the game the Doggers finally separated a bit.
Anthony Rogers scored 16 points for Caney in a losing effort. Dewey will play in its first ever Caney Valley Tournament championship game on Saturday. The Bulldoggers have come a long way from a team that won just two games last season according to head coach Lance Knight.
Earlier in the day, Caney Valley took down Copan 67-36 in the consolation bracket. The Hornets kept it close in the first half but ultimately Caney Valley was too much. The Trojans were led by Daniel Barham who scored 25 points including this rim-rattler late in the game.
It is a big slate on Saturday for the tournament's final day. Our radio coverage is as follows:
Caney Valley vs. Liberty, boy's consolation final – 2:30 p.m. – KRIG 104.9 FM
Caney (KS) v. Oklahoma Bible, boys Third place– 5:30 p.m. – KRIG 104.9 FM
Caney Valley v. Oklahoma Bible, girls championship– 7:00 p.m. – KRIG 104.9 FM
Dewey v. Riverfield, boy's championship – 8:30 p.m. – KRIG 104.9 FM
« Back to Sports