Sports » Latest News
Dewey Basketball, Oklahoma Union Basketball
Posted: Jan 24, 2022 2:23 PMUpdated: Jan 24, 2022 3:23 PM
Dewey Hosts OKU in Critical Conference Battle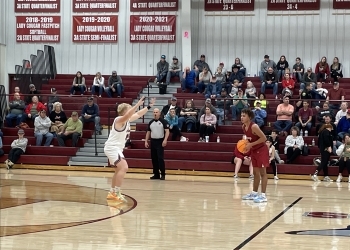 Two of the areas top tournament performers from over the weekend square off in an important Northeast Valley Conference battle on Tuesday. Dewey is coming off a second place finish in the Caney Valley Tournament and will host No. 4 Oklahoma Union who just won the Pawhuska tournament.
The Doggers put together an incredible tournament last weekend—losing in the CVT finals 62-61 to Riverfield. Bryson Hudson, Jake LaSpisa and Colby Miller shot the lights out in the Dewey's first trip to a tournament title game since 2018. Dewey also got strong performances form Hunter Perrier, who fills several valuable roles according to head coach Lance Knight.
Oklahoma Union put together an impressive run in the Pawhuska tournament as it knocked out 2A No. 3 Morrison and 3A No. 2 Alva to hoist its first trophy since winning the state title last year. The senior class for OKU lost its first ever conference game when Nowata topped them by 25 points on January 14. Lee Ott says strong defense in the key to the team's success.
OKU won a low-scoring battle in the first meeting of these two teams on December 14, 37-29. Radio coverage from Dewey starts at 7:50 p.m. on KRIG 104.9 FM.
« Back to Sports