Sports » Latest News
Dewey football
Posted: Jun 27, 2018 4:22 PMUpdated: Jun 27, 2018 5:22 PM
Dewey Sees Results in Passing League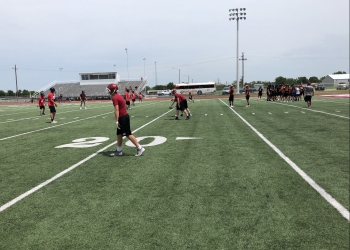 Every Tuesday in June the Dewey Bulldoggers hosted a seven-on-seven passing league and this year it was a resounding success. The young group of Doggers made great strides working with a ton of new faces in key roles and with a slightly different offense as well.
Dewey head coach Tyler Caid says this was a great time implement some new ideas in the defensive secondary as well.
Dewey got the chance to compete against tough Caney Valley fresh off a playoff appearance and a much-improved group from Pawhuska. The Doggers made great strides on the field in June but coach Caid says even bigger strides have been made recently in the weight room.
The bulldoggers will wrap their lifting program this week before taking the first two weeks of July off. The Doggers open the 2018 season on August 24 with a trip to Adair.
« Back to Sports