Sports » Latest News
Sports
Posted: Oct 05, 2019 6:04 AMUpdated: Oct 05, 2019 10:14 AM
Dewey Wins Fourth Straight - Pounds Haskell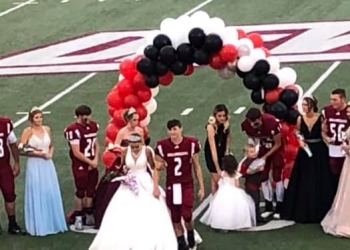 It was another high scoring affair in Dewey, as the Doggers may have put themselves in the driver's seat for making the postseason.
It is a 2-0 district start after Dewey beat up on Haskell for homecoming, topping the Haymakers 62-45. This is the first time the Doggers have won four games in a row since the first half of the 2007 season.
Kale Carner was homecoming king, and king on the field. Carner had eight total touchdowns and a defensive interception during the contest. It was his legs again that made the difference, scoring five of the six touchdowns on the ground, including this one to begin the scoring.
Carner finished with 318 yards passing, going 11-18 through the air. He also had 153 yards rushing on 22 carries. In total, it was 471 yards of offense.
The game would go back and forth, with Dewey keeping the Haymakers at bay for the majority of the contest. A recovered onside kick and a score gave the Doggers a 42-29 lead at half, after they had only led by a point previously.
Dewey improves to 4-1, 2-0 in district play. The Bulldoggers will next travel to Beggs for a tough one next week.
« Back to Sports