Sports » Latest News
Dewey football, Nowata Football
Posted: Sep 07, 2019 6:03 AMUpdated: Sep 07, 2019 7:03 AM
Dewey Wins Third Straight Hooper Bowl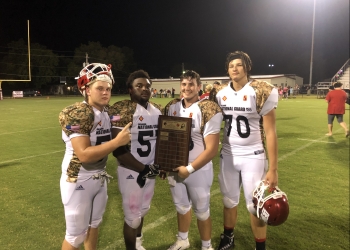 The Adam Hooper Trophy is staying in Dewey. The Bulldoggers topped Nowata 32-0 to take home their fourth consecutive win in the rivalry. The Ironmen limited the Dewey offense for the first nine minutes of the game but Kale Carner and the Doggers offense couldn't be held down any longer. The senior quarterback connected with Hayden Thornton on a 73-yard strike.
It was a career night for Carner who had a career 251 yards and three touchdowns on just five completions. Early in the second quarter a simple throw yielded big results as Colby Henley went 72 yards to the house on this screen pass.
Carner would later find Jack Davis on a 33-yard strike in the second half. Nowata struggled throughout the entire ballgame to defend the pass. However, Trenton Smith did capitalize on a rare mistake to notch his first career interception.
Dewey moves to 1-1 as coach Trent Turner registers his first career win. Nowata falls to 0-2.
« Back to Sports