Sports » Latest News
Dewey Football
Posted: Feb 12, 2020 8:55 AMUpdated: Feb 12, 2020 9:55 AM
Dewey's Rumsey Signs to Play College Football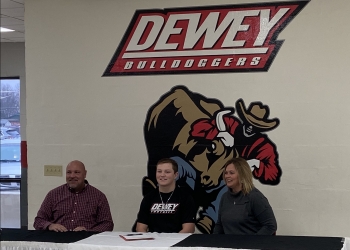 It's officially signing season for high school athletes across the area. On Wednesday morning Dewey football star Hunter Rumsey signed a letter of intent to play football at McPherson College.
Rumsey was a force on the Bulldoggers defense from his linebacker spot over the last three years. Rumsey totaled 115 tackles and three sacks in his senior campaign. He also played tight end and briefly running back. Rumsey tabbed a touchdown in the Doggers win over Caney Valley in 2019.
McPherson is an NAIA school in the Kansas Collegiate Athletic Conference. The Bulldogs went 5-6 last season. Congratulations to Hunter for continuing his athletic career.
« Back to Sports