Sports » Latest News
Dewey Baseball
Posted: Apr 10, 2019 3:09 PMUpdated: Apr 10, 2019 4:09 PM
Diamond Doggers Finding Winning Ways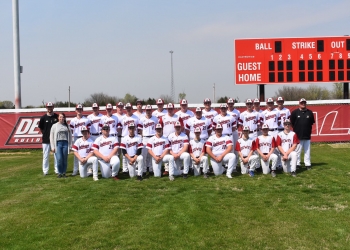 The Dewey Bulldoggers have been playing great baseball of late despite a rough start to the year. Dewey has won four of its last six contests after starting the year on a fourteen-game losing streak. Since April 5th the Diamond Doggers have kicked it into gear with wins over No. 13 Caney Valley, Oklahoma Union, Nowata and Chelsea.
First-year Dewey head coach Geoff Beaty says he is happy the team is playing its best ball toward the end of the season.
Dewey played a very tough schedule early in the season. Of the 14 losses, nine of which came against higher classification squads or ranked 3A opponents. The difference has been making better contact at the plate. Grant Johnson is the four-hole hitter for the Doggers and his bat has made a great impact. Johnson currently leads the team in batting average, runs batted in and doubles.
The Dogger pitching staff has allowed just four runs per game over the six-game stretch. Sophomore Hayden Wood has shown future-ace potential this season. Wood threw a complete game in a 4-0 loss to Chelsea on Tuesday in which he struck out 10 hitters and did not surrender a walk. Beaty says Wood's strike-throwing ability makes him tough to beat.
The Doggers host Pawhuska on Friday.
(PHOTO COURTESY: Bulldogger Baseball/Twitter)
« Back to Sports