Sports » Latest News
Sports
Posted: Feb 11, 2020 7:32 AMUpdated: Feb 11, 2020 8:32 AM
Dilbeck Says BHS Athletics are Strong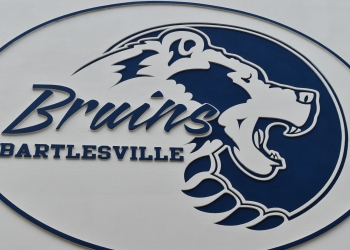 It has been exactly one week since the announced hiring of the new Bartlesville High Athletic and Activities Director.
Thad Dilbeck won't be on the job for another three and a half months, but Dilbeck says he will be involved in any decision-making that might happen over that time span. He is serving out the rest of the semester in his current gig as principal at Ponca City High School.
Dilbeck says he has always kept tabs on Bartlesville and that the state of Bruin Athletics is strong.
Matt Hancock, Terry Hughes and Jason Sport continue to run the BHS athletic department as the school transitions into spring sports over the next few weeks.
Initial Story on Dilbeck's Hiring
« Back to Sports