Sports » Latest News
Dewey Football
Posted: Jul 08, 2020 4:51 PMUpdated: Jul 08, 2020 5:51 PM
Doggers Expect Increased Roster Numbers for 2020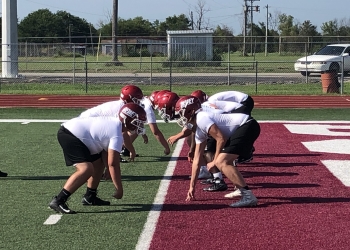 Despite the uncertainty that has run rampant throughout the high school football offseason the Dewey Bulldoggers are still preparing for the upcoming campaign as normal. The Doggers are hard at work in the weight room and continuing to condition while using social distancing guidelines. Second year head coach Trent Turner says 40 to 50 guys turn out for workouts most days. Turner is excited to have built up the roster with some new additions as well.
Dewey took a break last week for the Fourth of July but the team plans to continue workouts in the fashion over the next month. Per OSSAA guidelines, schools cannot begin official practices until August 10.
Due to re-districting, the Doggers will play some new team on their non-district schedule including Miami and Quapaw. Dewey will also match up with Vinita as it continues a non-district series that has been active since 2008.
« Back to Sports