Sports » Latest News
Dewey Basketball
Posted: Jan 23, 2022 8:46 PMUpdated: Jan 23, 2022 9:46 PM
Doggers Fall in Thriller; Take Second in the Caney Valley Tournament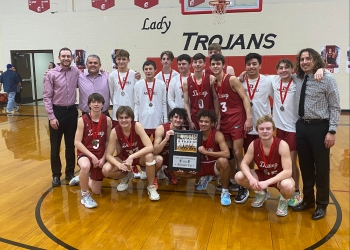 The Dewey Bulldoggers gave a valiant but came up short in the finals of the Caney Valley Tournament. The Doggers fell to Class-A No. 15 Riverfield 62-61 on Saturday night.
Dewey battled back from an early 12-0 deficit in the first four minutes of the contest. Riverfield received back-to-back technicals in the first quarter which turned momentum Dewey's way. Down 18-15 in the final seconds Colby Miller was fouled on a three-point heave and hit all three free throws to tie the game.
The Doggers thrived in the second quarter as Miller would connect on three shots from beyond the arc. The Doggers sharpshooter was the star of the game early on.
Dewey would lead 42-35 at the break. The Dewey offense slowed down in the third period and Riverfield tied the game at 49-49 entering the final quarter.
The teams would trade buckets down the stretch. Riverfield led 59-55 with two minutes left. Jake LaSpisa would hit a clutch three to keep the Doggers alive.
Dewey would get a steal down by a point with 10 seconds left but a corner three ahead of the buzzer wouldn't go down. Miller led the team with 23 points and LaSpisa scored 18 points.
Dewey nets its best tournament finish since the 2018 season. The Doggers meet up with Oklahoma Union for a home game on Tuesday.
The Caney Valley girls fell to Oklahoma Bible in the girl's title game. The Lady Doggers took fourth and the Caney, Kansas boys also finished fourth.
« Back to Sports