Sports » Latest News
Dewey Football
Posted: Sep 19, 2019 3:11 PMUpdated: Sep 19, 2019 4:21 PM
Doggers Ready for Test at Vinita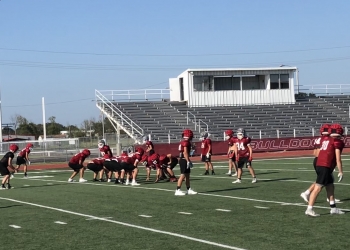 The Dewey Bulldoggers have a measuring stick game set for Friday. The Doggers head to Vinita to take on a 1-1 Hornets team. Dewey is also 1-1 and Vinita is the only 3A team the Doggers will face all season. A win here can set the table for a potential playoff run in a challenging 2A District 3.
Dewey is coming off a bye week in which the team rested and recovered following a 32-0 win over Nowata in week one. Head coach Trent Turner gives a scouting report on Vinita.
The Hornets are coming off a 56-14 win over Nowata last week. Sophomore tailback Kyron Downing, who scored 27 touchdowns last season did not play in that game. However, Turner says he is preparing for the junior Olympian sprinter to be on the field.
On the other side trying to stop the Hornets talented run game will be senior linebacker Hunter Rumsey. Turner says he can rely on Rumsey to lead the defense.
The Doggers last beat Vinita 41-20 in 2017. Pregame coverage starts at 6:30 p.m. with kickoff at 7 p.m. Listen on KRIG 104.9 FM
« Back to Sports